Contact Us
We want to hear from you!
Email: rockyforkfoodhub@gmail.com
Shopping on the Hub
Ordering will open once per month on Friday at noon (see dates below).
Place orders by Monday midnight, and pick up on THURSDAYS at Honey's Cafe (209 S. Broadway) from 3:00-4:00. If this time doesn't work for you, contact us and we can make other arrangements.

Ordering opens:
June 14 for Pickup June 20
Become a Member
NEW CUSTOMERS WELCOME!
Shop from a wide variety of local producers for the freshest food possible straight from the source. Once you register you can begin shopping, and membership will be charged when you place your first order. After registering you will receive emails notifying you when ordering is open.

Our listings fluctuate with the seasons, but our growers always provide high quality, good value, and you get a great feeling from supporting your neighbors with your grocery dollars. Membership options are:

• $10 Annual
• $5 One-time
About Rocky Fork Food Hub
Welcome to Rocky Fork Food Hub! Consider this hub an online Farmers Market where you can order a wide variety of local products direct from the producer.

Like a Farmers Market, this hub allows you to learn about the farmer or producer and understand how their products are grown or made, while getting the freshest possible food for yourself, your family, and your business. Visit each producer's link next to their products to learn more about them and their products.

This hub has been developed to accommodate a growing interest in the purchasing of produce, meat, and other products grown and produced in our area. We aim to help our regional growers establish a strong market for their products, which strengthens the very fabric of our communities - economically, socially, nutritionally, and environmentally.
YOUR LOCAL GROWERS THANK YOU FOR SHOPPING LOCALLY!
Next order opens Friday, June 14
Ordering opens on Friday at noon, closes Monday at midnight, and you can pick up your orders the following Thursday at Honey's Cafe. See dates and details at right.
Yellowstone Valley Food Hub - pop-up petting zoo May 11!
Our sister food hub, YVFH, is holding this fun event on Saturday, May 11 - great for the whole family. You'll love seeing the Swanky Roots facility if you haven't already. We feel lucky to have such a great group of producers working to connect with the community and provide the BEST food possible - locally grown.

This free event takes place at Swanky Roots, 8333 Story Rd in Billings from 11am to 2pm.


Other fun activities:
-Aquaponics tours
-Farmers' Market Booths
-Baby Animals Petting Zoo
-Seed Starting
-Face Painting
-Lunch available for purchase

See you there!
Spring Farmers' Market Sat. April 13, 10-3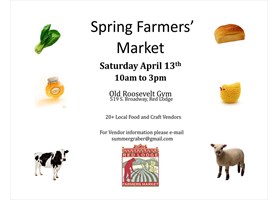 Join your neighbors, friends and family at the Spring Indoor Farmers' Market on Saturday, April 13 from 10-3 at the Roosevelt Center Gym, 519 S Broadway in Red Lodge.

Over 20 vendors, including several Rocky Fork Food Hub producers and your favorite growers and crafters from the summer farmers' market will be selling their goods there.

See you there!
New Ordering Schedule starting March 2019
We are changing things up a little, so keep in mind that ordering will start taking place once per month (rather than twice) and delivery will take place on the 3rd Thursday of each month.

So look for emails to notify you of opening on Friday, March 15 and closing on Monday, March 18, with pickup on Thursday, March 21. This will give you four days to do your shopping online!

Thanks for buying local - Eat Well!
Happy New Year of Good Local Food
Welcome back for another year of great local food. Thanks for supporting our local farmers and producers. Ordering periods are listed to the right.
Holiday Farmers' Market Saturday, Dec 15
Join your neighbors, friends and local producers at the indoor Farmers' Market Saturday, Dec 15 from 10am to 3pm at the Old Roosevelt Gym. There will be over 30 vendors with lots of great food and holiday shopping opportunities.

Eat Well and have a wonderful holiday season!
Welcome Back for Another Season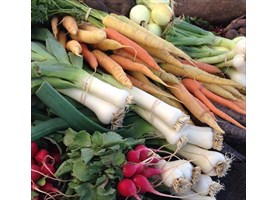 Our Red Lodge Farmers' Market at Lions Park had another great summer season - thanks to all the vendors and board members who make it happen, and to all of the locals and visitors who purchase and enjoy local products.

We are rolling into a new season here with our online farmers' market, starting Sept 21 with ordering, and the first pickup on Sept 25. We will coordinate with the Farmers' Market to make sure we don't overlap with their planned indoor markets October 21, November 17 and December 15.

We always welcome new producers and new members. Contact us for more details, or register as a user and get regular email updates.

Eat Well!
See you in September!
We'll start up with online ordering again toward the end of September - have a great summer and thanks for buying local!
Collaborating with the Yellowstone Valley Food Hub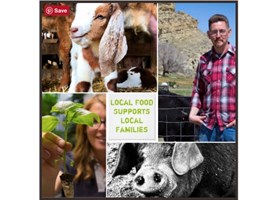 We're very excited to watch the development of the new Yellowstone Valley Food Hub - a cooperation between Northern Plains Resource Council and local growers to help market and distribute locally produced foods in Billings and surrounding areas. We share many of their goals and are in discussion of how best Rocky Fork Food Hub can collaborate with and support their efforts. We will work together to develop more markets for our producers, help more food dollars to go to the growers and stay in our community, support family farms and provide buyers with the freshest, most delicious food.

Stay tuned as this develops, and visit their crowdfunding page at:

https://www.barnraiser.us/projects/become-a-founder-of-the-yellowstone-valley-food-hub?utm_campaign=become-a-founder-of-the-yellowstone-valley-food-hub&utm_medium=unknown&utm_source=creator_outreach

Thanks for buying local!
Come see us at the Earth Day Block Party!
Join us and Red Lodge Area Food Partnership Council on Saturday April 21 for the Earth Day Block Party at the Red Lodge Carnegie Library parking lot from 12 noon to 3 p.m. There will be free food and coupon books for Parks Clean-Up volunteers (cleanup takes place starting at 10), as well as music, brews, and booths from 21 local organizations.
Ordering opens at noon on Fridays for pickup the following Tuesday
Place your orders by midnight on Sundays, then pick up your order on Tuesdays from 3:30-5:00 at Honey's Cafe - see the calendar of ordering periods in the right column. As always, if you are unable to meet the pickup time, or have any other questions, don't hesitate to contact us at rockyforkfoodhub@gmail.com.

Eat Well!